September 30, 2021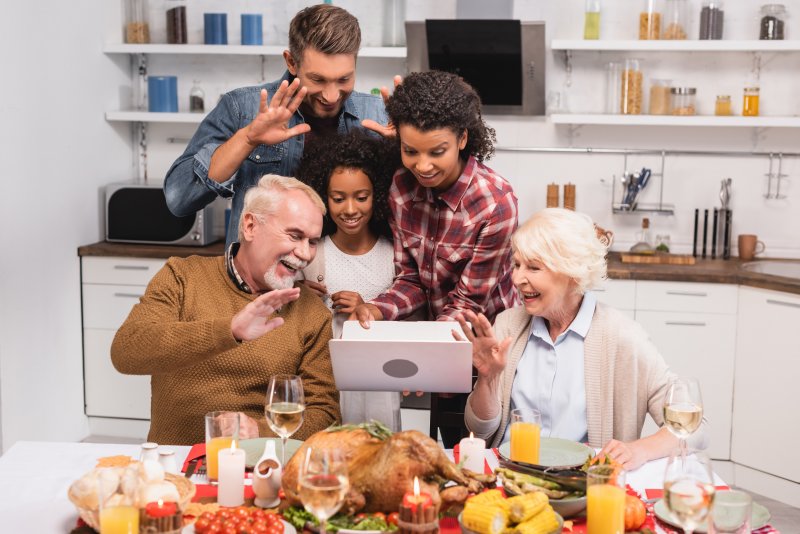 Every year on Thanksgiving, you get together at your aunt's place with your family and friends for a day filled with fun and plenty of delicious food. Though you always look forward to these get-togethers, this will be the first Thanksgiving you'll have with your dentures. With the holiday right around the corner, it's important to know what foods can damage your restorations so you know what to avoid. To help you navigate the buffet this Thanksgiving, keep reading to learn a few common holiday foods to avoid with dentures.
7 Holiday Foods to Avoid with Dentures
Though it may be difficult to abstain from eating some of your favorite foods this Thanksgiving, the damage they can do to your restorations isn't worth the trouble. With this in mind, here are a few of the foods you should avoid eating this Thanksgiving:
Candied pecans and other foods that contain nuts
Marshmallows and similar sticky foods
Hard candies like taffy and candy canes
Chewy meats
Popcorn
Cranberry sauce
Corn on the cob or raw, hard fruits and veggies
6 Delicious Foods to Indulge In
Even with all these things off the table, there are still a ton of denture-friendly foods you can enjoy this holiday season. To ensure your dentures stay firmly in place while you eat, try to fill up on the following Thanksgiving delights:
Mashed potatoes or pureed sweet potatoes
Pumpkin pie, ice cream, and other soft desserts
Roasted carrots, broccoli, and other cooked veggies
Pasta or rice
Tender meats such as turkey breast
Green bean casserole (without almonds)
How to Prepare Beforehand
Choosing the right foods the day of Thanksgiving is half the battle, and preparing beforehand is the other. Consider picking out foods from the grocery store that you know you can eat to ensure you can fill up your plate with delicious holiday delicacies. You may also want to make an appointment to see your dentist beforehand so they can conduct a dental exam, make adjustments to your dentures if necessary, and ensure that they're still in good condition.
Wearing dentures during the holidays may take some getting used to, but avoiding the above foods doesn't mean you can't have a great time hanging out with friends and family. Skipping the pecan pie may be difficult at first, but it will be worth it to keep your dentures looking their best!
About the Practice
Whether you're an Azle resident in need of a regular checkup or one who wears dentures, Dr. Frank Rubal, Dr. Jodie Rubal, and the rest of their team at Rubal Dentistry are here to help you achieve your oral health goals. From new patients to existing ones, they provide one-on-one attention in a warm, inviting office setting to make patients feel comfortable as well as confident in the care they receive. If you're interested in learning more about what holiday foods you should avoid eating while wearing dentures, visit Rubal Dentistry's website or call their office at (817) 444-2585.
Comments Off

on Holiday Foods to Avoid with Dentures
No Comments
No comments yet.
RSS feed for comments on this post.
Sorry, the comment form is closed at this time.