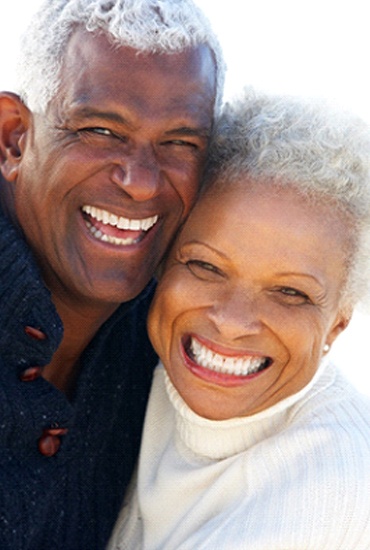 All-on-4 – Azle, TX
Replacing All Your Teeth with Four Implants
Thanks to modern techniques, we're able to replace all of the teeth in your upper or lower arch with a minimal number of dental implants. All-on-4 in Azle lets you enjoy all the benefits of traditional implants with a more conservative procedure that can potentially let you enjoy new teeth on the same day as the surgery. Dr. Frank Rubal and Dr. Jodie Rubal are happy to recommend All-on-4 to patients who may not be qualified for traditional dental implants; call today to schedule an appointment to learn more.
Why Choose Rubal Dentistry Azle for All-on-4?
Entire Implant Procedure Performed In-House
Two Highly Experienced, Compassionate Dentists
Low-Interest Dental Financing Options
How Do All-On-4 Implants Work?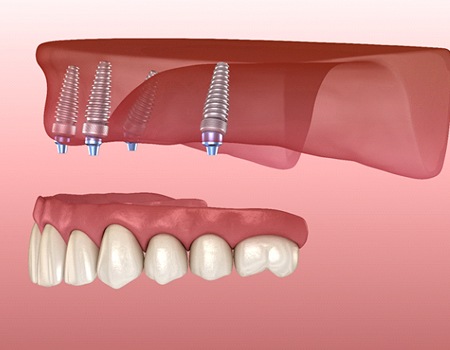 All dental implants need an ample amount of jawbone density to integrate with. If you've already experienced bone loss, you may have already lost some bone in your jaw and may need bone grafts before you can get dental implants. But this isn't a problem with the All-on-4 techniques. The four implant posts are placed at strategic angles so that they can join with the thickest areas of the jawbone. This makes it a viable treatment even after bone loss has occurred. Once the implants are in place, we can often equip them with temporary prosthetics right away.
Am I a Candidate for All-On-4 Implants?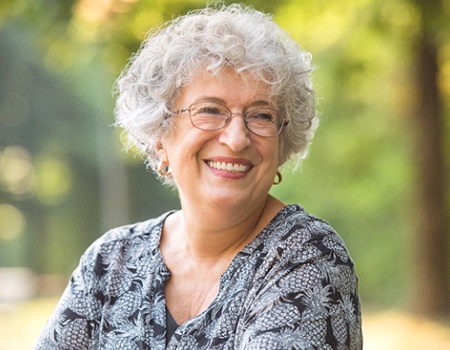 Like regular implant candidates, potential All-on-4 patients should have healthy mouths free of gum disease. They should also have good oral health habits such as regular brushing and flossing as well as avoiding risk factors for implant failure like smoking. One advantage of All-on-4 is that even people with bone loss may be able to have the procedure done without needing bone grafts first. This means that if you have the choice between All-on-4 and a traditional implant procedure, All-on-4 could save you time that would otherwise be spent on preliminary treatments.
Benefits of All-On-4 Implants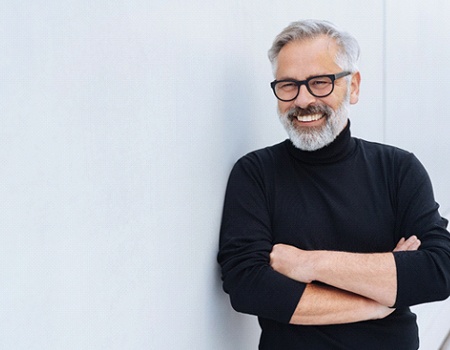 All-on-4 is a permanent tooth replacement solution. Your new teeth will not slip when you're speaking or chewing, and you can brush them as you normally would. The implant posts act as tooth roots that provide stimulation to the jawbone so that it won't deteriorate over the long term; they will also provide greater bite force and chewing power than traditional dentures and bridges, so there will be no major changes to your diet. And thanks to the lifelike restorations and the way your implants practically become part of your body, your new teeth will look and feel completely natural.
All-On-4 VS. Traditional Implants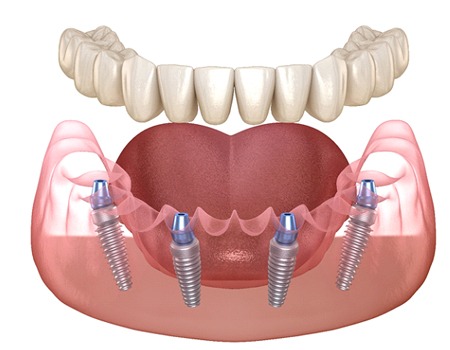 All-on-4 and traditional dental implants can seem very similar, but the distinctions are very important. Traditional dental implant techniques may require up to 8 posts, often call for bone grafting before dental implant surgery (which can add months to the treatment time), and usually require you to wait months before receiving any restorations. All-on-4, in contrast, uses a minimal number of implants, can eliminate bone grafting entirely, and in many cases can support a customized temporary denture right away.