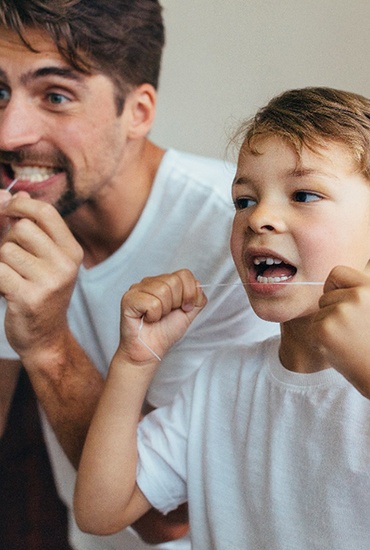 Medicaid and CHIP Dentist – Azle, TX
Exceptional Dentistry Made Affordable
Similar to other dental insurance policies, Medicaid and CHIP can be overwhelming to someone who isn't familiar with it, and it can be difficult to find a dental team that accepts these plans. At Rubal Dentistry, Dr. Frank and Dr. Jodie are proud to welcome anyone with Medicaid or CHIP into our dental family and will treat you and your loved ones with respect and the high-quality care you deserve. So contact us to request an appointment today!
Children's Medicaid & CHIP: How Do They Work?
CHIP stands for Children's Health Insurance Program, and both CHIP and children's Medicaid are reserved for families that cannot afford traditional dental insurance. These programs are designed to reduce out-of-pocket costs for US citizens residing in Texas or legal permanent residents under the age of 18. You can sign up for either of these programs through DentaQuest, MCNA Dental, or United Healthcare Dental.
Dental Services Covered Under CHIP & Children's Medicaid Plans
When your child is enrolled in the CHIP or children's Medicaid program, they are entitled to the following:
Two dental checkups and cleanings per calendar year (or one every six months)
Necessary X-rays
Two fluoride treatments
Fillings, crowns, and root canal therapy
Necessary tooth extractions
If you would like your child to receive orthodontic care or cosmetic procedures, note that these are not covered by these programs, which means you'll be responsible for paying for the procedure out-of-pocket.
Medicaid Dental Coverage for Adults
At Rubal Dentistry, we would be happy to help if you would like someone to walk you through your benefits as an adult and help you understand the sometimes confusing phrasing. Just keep in mind that emergency services are included in Medicaid benefits for adults, but preventive services, as well as orthodontics and most restorative services, are not. Despite this, it is worth the out-of-pocket cost to receive preventive services on a regular basis to avoid the pain of a dental emergency. We offer low-interest financing, if necessary to make this care more affordable with any budget.
Prevention is the Key to a Healthy Smile
Why are dental cleanings and checkups—along with other preventive care services like fluoride and sealants—important? In terms of money, these small steps can save you and the government quite a bit! It costs significantly more to treat a problem than to stop it from happening in the first place. Instead of addressing tooth decay and infections, we can prevent it from occurring in the first place or catch it before it damages your smile much.