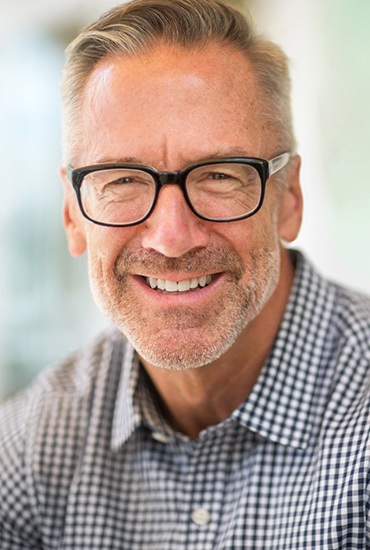 Dentures – Azle, TX
Regain Your Complete, Confident Smile
Did you know that almost 40 million Americans are missing all their teeth? So, if you are struggling with gaps in your smile, you're not alone. Fortunately, our team at Rubal Dentistry Azle can help with dentures in Azle! This effective, life-like, durable tooth replacement option can restore your complete, confident smile that you've been missing without invasive surgery. Ready to schedule your first visit? Contact our office today!
Why Choose Rubal Dentistry Azle For Full & Partial Dentures?
Serving Azle and Surrounding Communities Since 1996
Highly Trained and Experienced Dentist
Low-Interest Financing Available
Full Dentures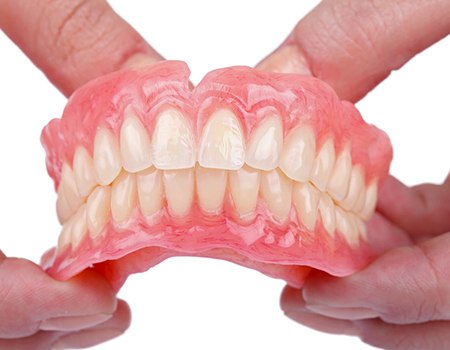 Designed to help patients who are missing an entire arch of teeth, full dentures are custom-made replacement teeth that sit atop a gum-colored base. While the high-quality acrylic perfectly balances comfortability and durability, the teeth are custom-made from natural-looking material that resembles every detail of real enamel. They are held in place by a combination of natural suction and a special adhesive to ensure you can smile, talk, and laugh with complete confidence and minimal movement. Plus, they are completely removable, which allows you to complete your oral hygiene routine hassle-free.
Partial Dentures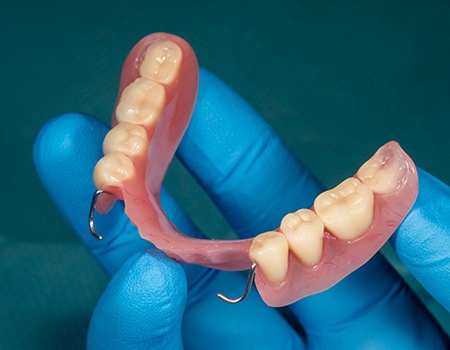 Partial dentures are ideal for patients who are missing several teeth in a single arch, but still have a few of their natural ones intact. Like full dentures, they are incredibly life-like, entirely removable, and have a gum-colored base. However, instead of being held in place by adhesive, a metal piece is used, which discreetly fits behind your existing teeth.
Maintaining Dentures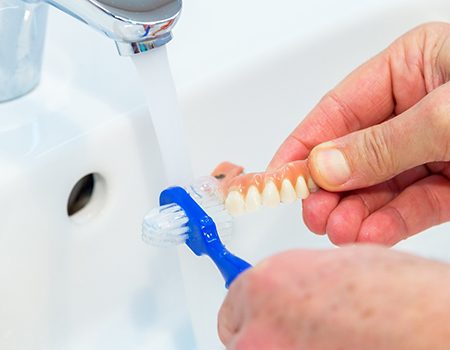 With proper care, your dentures can last 5+ years! Fortunately, maintaining them is relatively easy as long as you follow a few best practices:
Use a non-abrasive denture cleaner and a soft-bristled toothbrush to clean them daily
Soak your dentures in a special cleaning solution each night to preserve their shape
Continue brushing and flossing any remaining natural teeth to keep your oral health in pristine condition
Avoid hard or crunchy foods that can cause them to chip
Handle them with care to prevent them from breaking
Visit our office regularly for adjustment appointments to ensure they fit snugly
Benefits of Dentures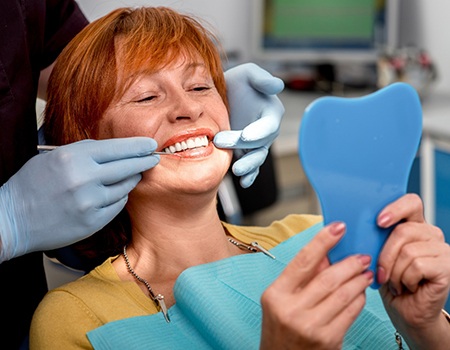 Dentures are a tried and true tooth replacement solution that has helped countless patients enjoy a full, beautiful smile again. They continue to be a highly recommended solution for tooth loss because they:
Have a lower upfront cost than dental implants
Don't require surgery
Can last 5+ years with proper care
Protect your remaining teeth from excessive wear or unwanted shifting
Are extremely life-like
Understanding the Cost of Dentures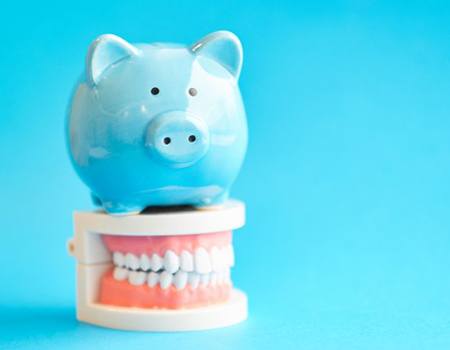 Because each denture is custom-made for a patient's unique mouth, the cost of dentures in Azle can vary quite a bit from patient to patient. During your initial consultation, Drs. Frank and Jodie Rubal can provide you with a cost estimate for your new teeth after examining your smile and discussing your specific goals, needs, and preferences. Read on to learn more about the price of replacing your missing teeth with dentures.
Factors that Affect the Cost of Dentures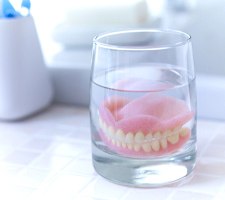 These are the three main factors that will contribute to the cost of your dentures:
The preparation before getting your dentures will influence the cost. This includes gum disease therapy and extractions when necessary.
The materials used for the base and replacement teeth will play a role. The base is typically made from acrylic while the replacement teeth can be crafted from acrylic or porcelain.
The number of teeth that you need to have replaced will impact the cost. The more teeth, the higher the cost.
Are Implant Dentures More Expensive?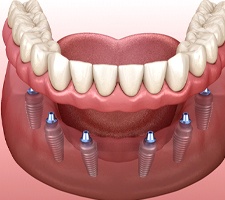 Implant dentures do cost more than traditional dentures, but there is good reason for it. Instead of being supported by the shape and suction of the gums, they are held into place by a series of dental implants that are placed into the jawbone via a surgical procedure. This allows for additional benefits, like being more lifelike, having additional stability, lasting for several decades, and preventing jawbone deterioration.
Does Dental Insurance Cover Dentures?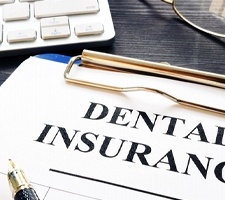 You can usually expect some amount of coverage with most dental insurance plans. Many provide up to 50% coverage, but this will vary depending on your individual plan. We're in-network with many popular dental insurance plans. If you need help understanding your specific benefits, just ask our team.
To learn exactly how much you can expect your treatment to cost, schedule a consultation with us. We're eager to help you smile again!
Denture FAQs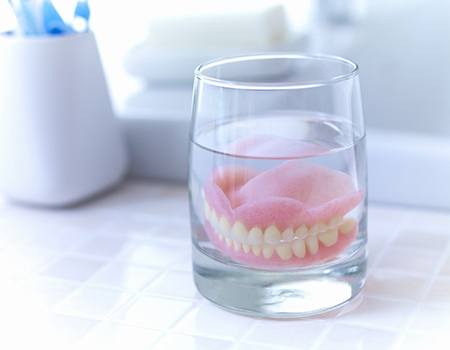 If you're missing several, most of, or all of your teeth, dentures can be a lifechanging tooth replacement option. However, choosing a tooth replacement option is a huge decision, so it pays to be well-informed. Here are the answers to some of the most common questions we receive about dentures in Azle. If you don't see the information that you're looking for below, don't worry! Give us a call and we'd be happy to answer your questions and get you started with an initial consultation.
Should I Have All My Teeth Pulled to Get Dentures?
Repairing a damaged tooth whenever possible is always preferable to replacing it. Tooth extractions of any kind will only ever be recommended if deemed absolutely necessary, like when a tooth is too damaged to save thanks to extensive decay, severe infection, or trauma that has broken off most of the enamel. If all of the teeth in an arch are decayed or infected with gum disease, replacing them with dentures may be a viable solution, but your dentist will always explore all of your options before recommending extractions for dentures.
Can I Sleep with My Dentures?
Dentists generally recommend taking your dentures out at night when you go to bed. When you first get your dentures, you'll typically be told to keep them in your mouth for 24 hours, including while you sleep. After this, you should be taking them out every evening. Wearing dentures restricts the circulation in your gums, leading to soft tissue irritation and potentially speeding up ridge resorption. Taking dentures out gives the gums a chance to recover and get the nutrients they need while you sleep.
Will It Hurt to Get Dentures?
If you need to have teeth extracted before you get dentures, you are likely to experience some discomfort after the oral surgery. Take your prescribed pain medication only as directed. The discomfort should improve 2 to 5 days after the procedure. When you first receive new dentures, some minor irritation may occur while your mouth adjusts to the new appliance. The amount of time that this lasts will vary from person to person. If it persists, give us a call so we can help.
Will Dentures Change the Shape of My Face?
When you lose your teeth, your facial muscles will begin to sag, and that can give your face a sunken appearance. Getting dentures will mean providing support to the facial muscles that have collapsed, therefore improving your appearance. Ill-fitting dentures may not give your facial muscles the proper support they need, so you should have yours refitted or replaced as soon as you realize it doesn't fit properly.