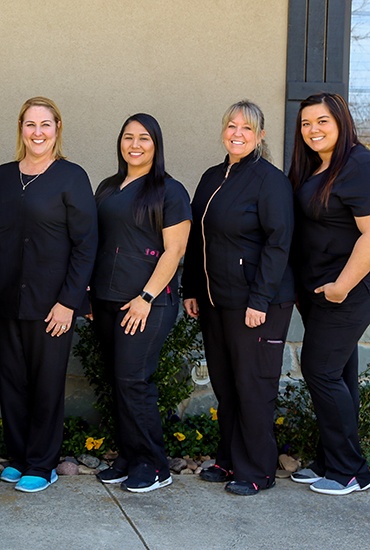 Wisdom Tooth Extractions – Azle, TX
We Address Painful, Frustrating Wisdom Teeth
The last permanent teeth usually erupt during the late teenage or young adult years. These third molars are commonly called wisdom teeth, and they were necessary in the past when tooth loss was more common. However, as oral hygiene has improved, people now often don't need these extra molars. In fact, they can cause problems by coming in at an unhealthy angle or crowding and pushing the other teeth out of alignment. In these situations, our team at Rubal Dentistry Azle can offer gentle wisdom tooth extractions in Azle, TX to help your smile stay healthy.
Why Choose Rubal Dentistry Azle for Wisdom Tooth Extractions?
More Than 20 Years of Experience
All Ages Welcome
Dental Insurance Accepted
If you have frustrating wisdom teeth, schedule an appointment with Dr. Rubal. Our team will walk you through the entire process, including the aftercare. Here are some guidelines to keep in mind as you heal from the extraction procedure.
Put clean gauze on the extraction site for a few hours after the procedure.
Allow a blood clot to form and stay on the site. This will protect the vulnerable exposed tissue.
Eat soft foods and avoid using a straw for at least 48 hours, and slowly build back up to your normal diet.
Make sure you get plenty of rest, and refrain from strenuous activity for a few days.
Wisdom Tooth FAQs
Whether you're having wisdom tooth extraction done yourself or want to schedule the procedure for another member of your family, you'll want to have a clear idea of what to expect on the day of the procedure. If you request an appointment with us, we can answer these questions in person. But that doesn't mean you can't start learning more about wisdom teeth right now! Below, you can see the answers to the wisdom teeth questions that we've heard the most over the years.
Do Wisdom Teeth Always Have to Be Removed?
As a matter of fact, they do not. In rare cases where there's enough room in the jaw to accommodate the wisdom teeth without compromising the other teeth, an extraction may not be needed. However, because the wisdom teeth erupt so late, more often than not the space they need to come in properly simply doesn't exist. If they become impacted or emerge at an angle, they can cause infection issues and irreparable dental damage. That's why wisdom tooth extraction is usually recommended before the most problematic symptoms occur; if we have any reason to think the wisdom tooth won't come out normally, we can make arrangements to have it removed.
How Will I Know My Wisdom Teeth Have to Be Removed?
The following are common symptoms of wisdom teeth that should be extracted right away:
Tooth pain that lasts more than a couple of days.
Persistent jaw pain.
Swollen or inflamed gums near the back of the mouth.
Difficulty with oral hygiene behind the second molars.
Periodic swelling and bleeding.
Wisdom teeth that have become fully impacted (meaning they can't break through the gums).
Oral infections that happen on a regular basis, especially near the back of the mouth where the wisdom teeth are located.
At What Age Should Wisdom Teeth Be Removed?
The wisdom teeth typically erupt during the late teens or the early twenties, and it's best to extract them as early as possible. Of course, the exact timing will be different for everyone; some might get wisdom teeth later in life while others won't get them at all. We can use X-rays to keep track of the current state of your wisdom teeth; that way, you won't have to wait until you're already experiencing negative symptoms to know that your wisdom teeth have to be taken out.
How Long Does the Recovery Process Last?
The main part of recovery usually lasts around 3 to 5 days; after that, you should be able to fully return to your normal routine and enjoy a full range of your favorite foods. However, it can take up to 2 weeks for the mouth to completely finish healing after the extraction. During this time, you might notice some swelling of the cheeks and gums as well as minor discomfort that will continue to fade over time. If the pain or swelling suddenly get worse, or if they fail to get better over time, please call us right away so we can advise you on your next steps.