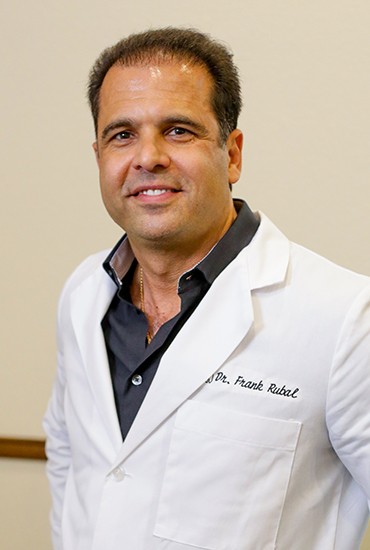 Emergency Dentistry – Azle, TX
Toothache? Broken Tooth? We Can Help!
Are you experiencing a dental emergency? Although your initial instinct may be to go to the emergency room, they are typically not equipped or trained to handle this kind of situation. Unless bleeding lasts longer than 10 minutes or you have broken bones, give Rubal Dentistry a call as soon as possible when a dental emergency occurs. We'll do our best to see you on the same day and give you much-needed relief. We even recommend saving our dental office's number in your phone. That way, you're prepared in case the need for emeregency dentistry in Azle, TX arises.
Why Choose Rubal Dentistry for Emergency Dentistry?
Same-Day Appointments Available
All Dental Insurance Accepted
Patients of All Ages Welcome
How to Handle Common Dental Emergencies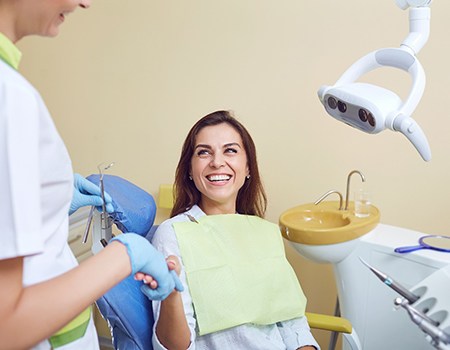 As mentioned above, in most cases, your first move should be calling our Azle dental office right away. Not only can we schedule an appointment for you, but we can provide specific advice for dealing with your situation until you arrive. After all, time can be precious in a dental emergency. Below are some of the most common dental emergencies and what to do to give yourself the best chances of successful treatment.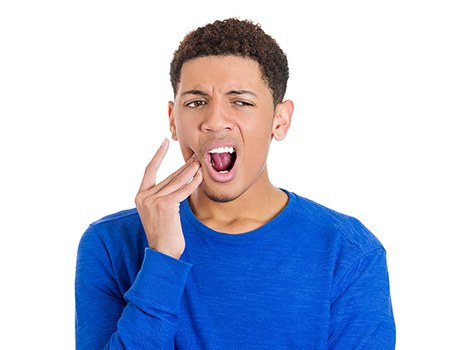 Toothaches
Before calling us, try to floss around the hurting tooth to make sure that your toothache isn't being caused by stuck food debris. If the pain continues, call us up and take an over-the-counter pain medication. You can also use a cold compress to reduce swelling and discomfort.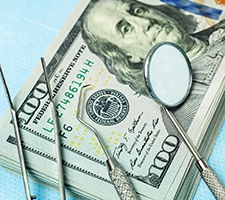 Chipped/Broken Teeth
Collect the pieces of the tooth and remember to bring them with you to our dental office. If your tooth is sharp, apply sugarless gum or dental wax to prevent cutting your lips or cheeks. Also, apply a cold compress if you experience any swelling.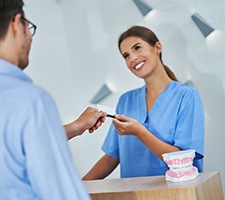 Knocked-Out Tooth
Be sure that you don't touch the root or any tissue that may still be attached. Rinse it off with warm water and hold it in your mouth or in a container of saltwater or milk to keep it moist. Make sure you get to our dental office within an hour to increase the odds of re-implantation.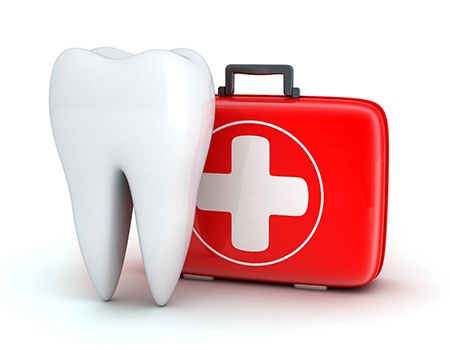 Lost Filling/Crown
If your restoration comes out, locate it and rinse it off. Also, rinse out your mouth, and put the restoration back onto the tooth. For more security, you can use a dab of toothpaste or sugarless gum, but remember that this is just a temporary fix. You will need to come in so that we can replace your filling or crown.
How to Prevent Dental Emergencies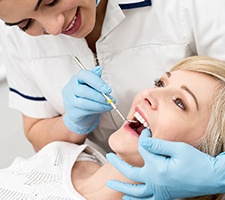 Believe it or not, many dental emergencies can be avoided by taking simple steps. These precautions include the following:
Brushing and flossing your teeth every day.
Visiting with Dr. Frank or Dr. Jodie Rubal twice a year for checkups and cleanings.
Avoid chewing on popcorn kernels, ice, pens, etc.
Use scissors or another appropriate tool to open packaging instead of your teeth.
Wear a mouthguard when you play sports, especially those that involve contact.
Learn More About How to Prevent Dental Emergencies
Cost of Treating Dental Emergencies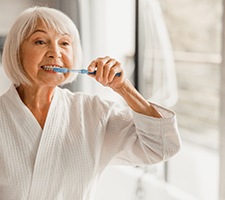 Each situation is unique, meaning that the cost of treating a dental emergency will vary depending on your needs. For example, although two patients can experience a toothache, one may require a filling, and the other could need a root canal. But regardless of the treatment you need, it is important to seek help as soon as you can. Waiting only makes the problem worse, not better, and much more costly to treat later on. Our team is happy to work with you to make your treatment affordable within your budget.
Learn More About the Cost of Dental Emergencies
Emergency Dentistry FAQs
Are you still worried about what would happen if you had a dental emergency in Azle? When in doubt, be sure to give our team at Rubal Dentistry a call. We can provide you with first-aid guidance and schedule a same-day appointment to fix the issue. For your convenience, we've also answered some common questions we receive below.
What is considered a dental emergency?
Some types of discomfort can come and go, depending on what the cause is. These are some of the most common signs that you're experiencing a dental emergency:
Intense, persistent pain
Bleeding caused by dental trauma
Loose or broken teeth
Knocked-out teeth
Swelling around the facial area
Oral sores that don't heal within two weeks
Severe toothache caused by an infection
Loose or broken crown or filling
If you feel as though a symptom is out-of-the-ordinary or warrants immediate attention, it likely does. When you call our office, our team will let you know whether your symptoms require a same-day appointment and provide you with instructions to help ease your pain and prevent further damage until you reach us.
Should I go to the hospital or an emergency dentist?
If your dental emergency is life-threatening, always visit your local emergency room before you see your dentist in Azle. Problems that make it difficult to easily swallow or breathe, uncontrollable swelling, jaw fractures or dislocations, deep facial lacerations, or serious tooth infections that occur when our office is closed also warrant urgent medical attention. Once you receive the necessary immediate treatment, you can contact our office so we can take care of all of your dental needs and get your oral health back on track or repair your smile. For any other urgent situation that has to do with your mouth, you can visit our office for fast treatment.
Do I need to go to the emergency dentist right now, or can I wait?
If you feel as though something is dangerous or causing you pain, it's important to immediately seek emergency help from your dentist. For certain issues, including a tooth infection or knocked-out tooth, time is of the essence, which is why it's vital to contact us as soon as possible.
Does dental insurance cover emergencies?
The best way to learn whether your emergency visit will be covered by your dental insurance is to speak directly to your provider. Most treatments vary depending on a variety of factors, including what the diagnosis is and how severe the problem has progressed to. If you need help finding out whether we're an in-network provider with your insurance or would like to speak about additional financing options, our team at Rubal Dentistry is always here to help!