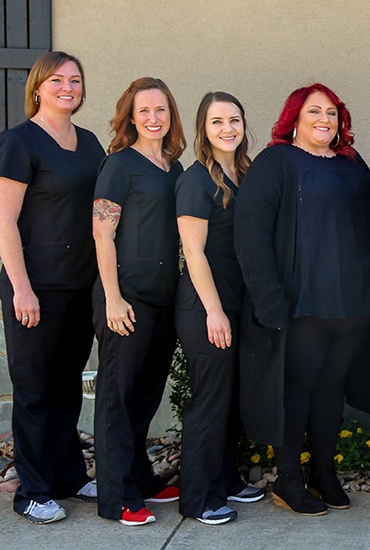 Cosmetic Dentistry – Azle, TX
We Put Your Dream Smile Within Reach
Do you currently feel confident in your smile? A self-conscious smile can have a huge impact on your life. For example, it can hold you back from making progress in social or professional situations. Also, studies have shown that those who smile more often tend to feel happier. You deserve to smile with total confidence and show your best self. Fortunately, even if you don't naturally have beautiful teeth, Drs. Frank and Jodie Rubal offer cosemtic dentistry in Azle, TX that can make that happen for you and your loved ones. Are you ready to love your smile? Reach out to us and schedule your consultation with us today!
Why Choose Rubal Dentistry Azle for Cosmetic Dentistry?
Flexible Financing Available
At-Home Whitening Offered for Convenience
Over 20 Years Serving Azle and Surrounding Communities
Porcelain Veneers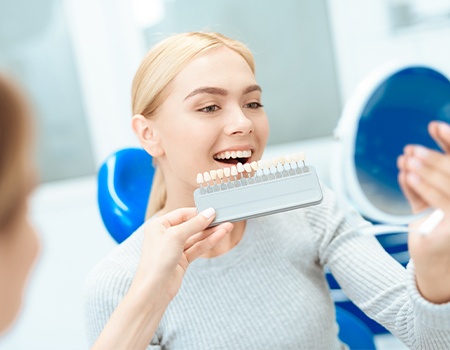 When you watch TV shows or movies, you can be dazzled by the actors' perfect teeth. Well, in many cases, they got that flawless smile through porcelain veneers. These ceramic sheets are thin and fit over the front of your teeth, hiding a multitude of imperfections, such as gaps, discoloration, chips, cosmetic cracks, misalignment, and more. In fact, in just two appointments, you can gain your own red carpet-worthy smile that lasts for years at a time.
Metal Free Dental Restorations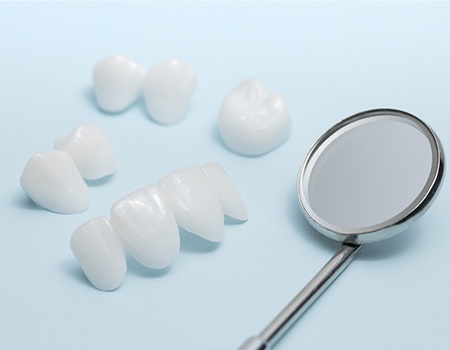 Nothing attracts attention—the wrong kind of attention—in a smile like shiny metal. Teeth look their best when they appear completely natural. That is why we provide restorations that have no metal whatsoever. Instead, we use either composite resin or porcelain to restore your tooth after decay or injury to bring back its original beauty and function. With Rubal Dentistry Azle, you don't have to worry about the way your smile looks.
Learn More About Metal Free Restorations
Cosmetic Dental Bonding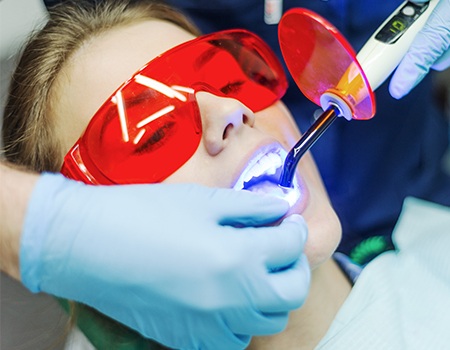 Did you know that there is a faster, more cost effective alternative to porcelain veneers? Cosmetic bonding involves using composite resin to fill in gaps and chips, cover discoloration, and correct slight misalignment for a more appealing look. Unlike veneers, this solution doesn't require removing any tooth enamel, and it is usually completed in just one appointment. However, keep in mind that cosmetic bonding will likely need to be replaced about every 10 years, as opposed to 20 or more years for porcelain veneers.
Learn More About Cosmetic Dental Bonding
Teeth Whitening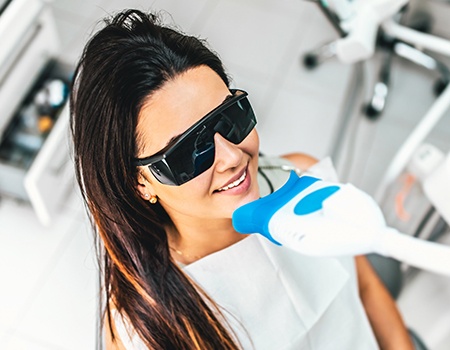 Over the years, your tooth enamel can fade or appear more yellow. With repeated exposure to staining foods and drinks, medications, and other sources, your smile could just need a simple whitening treatment to knock a few years off your smile. Our take-home whitening solution is far more powerful than anything you'll find in the store, which only removes surface stains. With our solution, you can brighten your smile by up to eight shades after two weeks of treatment.
Learn More About Teeth Whitening
Understanding the Cost of Cosmetic Dentistry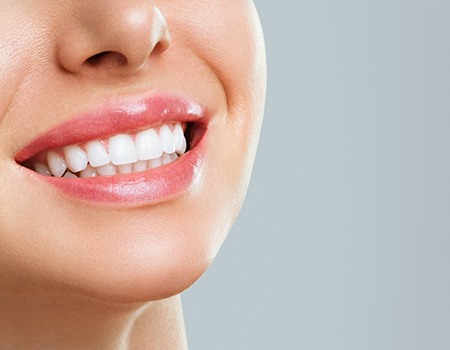 The cost of cosmetic dentistry in Azle usually isn't covered by insurance, so we understand that many patients worry if they will be able to afford their desired treatment. Rest assured that we are always transparent about pricing, and we offer a range of services that are suitable for varying budgets.
Which Cosmetic Dental Service Is Right for Me?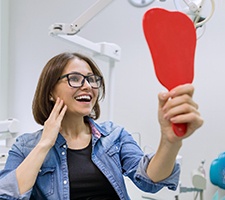 Most patients who are interested in cosmetic dentistry want to achieve whiter teeth, straighter teeth, and/or differently sized or shaped teeth. Our team can help you reach all of those goals. Here is an overview of some popular services, along with brief notes about pricing:
Dental bonding. Also known as cosmetic bonding, this is a fast and relatively affordable service that uses a tooth-colored resin to hide aesthetic flaws in teeth.
Teeth whitening. Our take-home whitening kits may cost a few hundred dollars. They produce stunning results, and you may be able to enjoy a brighter smile that lasts for months or years.
These custom-made pieces of porcelain can disguise a range of issues, including discoloration, chips, cracks, minor misalignment, and more. Some regard them as a sort of "all-in-one" cosmetic treatment. They can last for 15 – 20 years or longer. They do tend to be on the pricier side, often costing thousands of dollars.
Smile makeover. A smile makeover is not a treatment. Rather, it is a treatment plan that can include multiple procedures, all of which work together to help you achieve your ideal look. It is the most expensive cosmetic dentistry option, but it also produces the most stunning, comprehensive results.
Cosmetic Dentistry Can Be an Investment Worth Making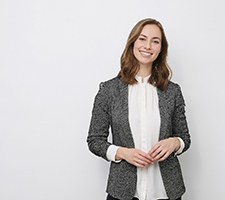 It might seem like cosmetic dentistry is a huge financial commitment. However, it can also rightly be viewed as an investment. In return for your money, you can enjoy the heightened confidence that comes with a gorgeous smile. You may notice that people begin to see you as being younger, more approachable, and more successful than they did previously. Many aspects of your life, including your social calendar and your career, may benefit from your treatment.
How to Make Cosmetic Dentistry Affordable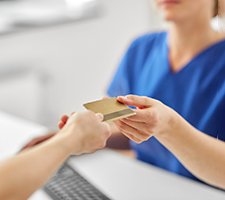 In some cases, dental insurance covers cosmetic treatment if a service comes with significant oral health benefits. This is often the case with metal-free restorations. Most cosmetic procedures, however, are not covered by insurance.
Don't worry. As your cosmetic dentist in Azle, we want to help you afford your dream smile. To that end, we accept third-party financing through CareCredit. The application process is quick, and most patients are eligible for credit. You might even be able to choose from between a number of different monthly payment amounts, according to what works best for your budget.
Are you ready to learn more about cosmetic dentistry and how you may be able to afford a gorgeous new grin? Our team is ready to answer your questions. Get in touch today to request a consultation. We look forward to serving you!
Cosmetic Dentistry FAQs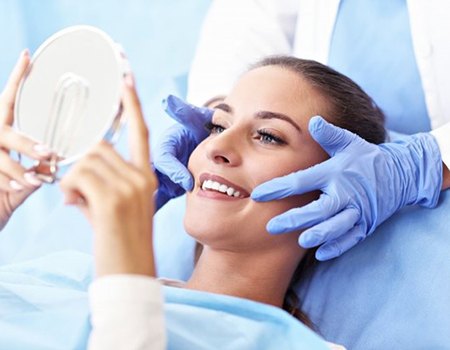 These days, cosmetic dentistry is more affordable and accessible than ever before. No longer is it solely for Hollywood celebrities; you too can make your dream smile a reality with the help of one or more of our various cosmetic services. Do you still have questions or concerns about these treatments? Don't worry; we've included this section down below with the answers to some of the cosmetic dentistry questions that our team members get asked the most often.
Can Cosmetic Dentistry Make My Teeth Healthier?
While the primary goal of cosmetic dentistry is to give your smile a more attractive appearance, certain treatments can simultaneously improve your oral health. For example, metal-free restorations can repair your tooth after injury or decay while also bringing back its original beauty. They can also protect a tooth from further damage that may require more extensive treatments, like an extraction.
How Long Will It Be Until I See Results?
The length of your personalized treatment plan is based on the specific procedures you've chosen, and it varies from patient to patient. Some procedures, like cosmetic dental bonding, can be finished in just one appointment, while veneers and at-home teeth whitening may take a few weeks to complete.
During your cosmetic consultation, our dentists can discuss exactly how you would like to improve your smile and lay out an estimated treatment timeline for you.
Can My Child Benefit from Cosmetic Dentistry?
In some cases, yes, they can! Procedures like bonding and teeth whitening can greatly benefit teenagers, who are becoming more image-conscious than ever before thanks to the prevalence of social media. Even younger kids may benefit from bonding to fix a chip in their tooth.
To find out whether cosmetic dentistry is suitable for your child, schedule an initial consultation with one of our dentists.
Will My Dental Insurance Cover Cosmetic Dentistry?
Generally speaking, dental insurance will not pay for cosmetic treatments. However, every plan is different, and there are always some exceptions. If a procedure is deemed necessary to improve or restore your oral health, such as metal-free restorations, your insurance company may elect to partially cover the cost.
Our practice is in-network with the vast majority of popular dental insurance plans. Additionally, we're more than happy to take care of the paperwork for you and maximize any benefits you may have available.
Am I a Good Candidate for Cosmetic Dentistry?
If you're unsatisfied or embarrassed by any aspect of the way your smile looks, cosmetic dentistry may be right for you. To be eligible for most cosmetic treatments, your mouth should be free of infections like gum disease or tooth decay. We'll need to address these underlying issues prior to beginning any cosmetic treatments.
If you're ready to achieve a gorgeous grin you'll be proud of, contact Rubal Dentistry Azle today!
Is Cosmetic Dentistry Safe?
Absolutely! Most cosmetic treatments are perfectly safe as long as it's administered by a trained dental professional. Of course, it's important to remember that not every service is right for every patient. During your consultation, our team will conduct a thorough oral examination to determine which cosmetic procedures are right for you.
If you have underlying oral health issues, they'll need to be addressed first before you move forward with cosmetic dentistry in Azle. Otherwise, it will be more difficult to treat the problem later on. For instance, placing a veneer over a decayed tooth will only worsen your condition.
How Do I Know If I Need Cosmetic Dentistry?
The truth is, almost anyone who isn't entirely confident in their smile could benefit from cosmetic dentistry in Azle. If you have stained or discolored teeth, professional teeth whitening can get you the shiny set of pearly whites you've always wanted. On the other hand, chipped or cracked teeth can be addressed with veneers or crowns.
All in all, there's a cosmetic treatment for almost any aesthetic imperfection you can think of. The only way to know for sure whether or not you could benefit from cosmetic dentistry is by attending a consultation with your dentist. They'll perform an oral examination to figure out which specific procedures are best for your smile!
Does Cosmetic Dentistry Hurt?
Not at all! We understand you may be hesitant to pursue cosmetic dentistry in Azle if you're worried it'll be painful. Rest assured – our team knows this, which is why we'll do everything possible to make your treatment comfortable. The good news is that most cosmetic dental treatments are non-invasive, like teeth whitening and dental bonding. They shouldn't even require the use of local anesthetic!
However, your dentist will numb your mouth beforehand for more invasive treatments like veneers. No matter which option you go with, you may experience mild soreness and sensitivity for a few days following your procedure. Fortunately, those symptoms are temporary and easily manageable with proper aftercare.
Is Cosmetic Dentistry Worth It?
Yes! Many patients have noticed a significant improvement in their daily lives thanks to cosmetic dentistry in Azle. For most people, a smile is the first thing that's noticed. Judgments are often made (intentional or not) on others based on the state of their teeth.
An attractive smile usually gives the impression that an individual is healthy, friendly, smart, and successful in their career. It can even boost the chances of getting a promotion or landing your dream job! Because of that, lots of patients believe that cosmetic dentistry is an investment worth making. It pays itself off in the long run!