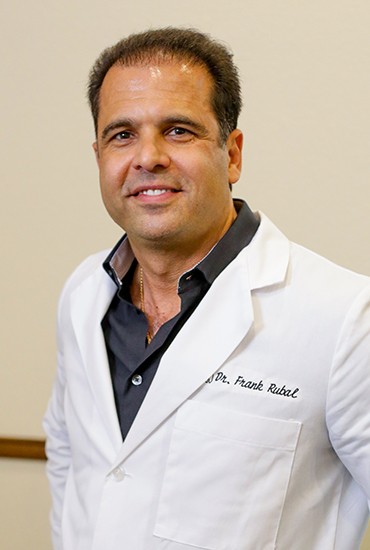 Dental Implants – Azle, TX
A Permanent, Strong Solution for Tooth Replacement
Missing one or more teeth can have a more significant impact on you than just changing your smile's appearance. Did you know that your jawbone loses density when you lose a tooth? Your body resorbs those nutrients, weakening the support the jawbone gives to your other teeth and potentially leading to more tooth loss down the road. Only one replacement option counteracts this result of tooth loss—dental implants in Azle, TX. Drs. Frank and Jodie Rubal and the rest of our team at Rubal Dentistry are able to offer this life-changing treatment from beginning to end, so schedule your consultation with us today!
Why Choose Rubal Dentistry for Dental Implants?
Dentists with 20+ Years of Experience Each
Implants Placed & Restored In-House
Low-Interest Dental Financing Available
What Are Dental Implants?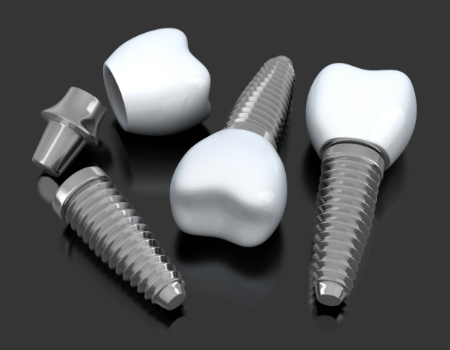 When it comes to replacing a missing tooth, a dental implant follows the structure of natural teeth. A biocompatible titanium post, which looks and acts like a tooth root, is surgically placed beneath the gum surface into the jawbone to stimulate bone growth. Then, the tissue and bone are allowed to heal and fuse to the post. After this process is complete, a metal connector piece called an abutment is placed, and the restoration (crown, bridge, or denture) is attached on top.
Because dental implants are the only option to rebuild a lost tooth from the root up, they are able to look, feel, and function almost exactly like your original teeth. That's why we typically recommend dental implants for all of our eligible patients.
Benefits of Dental Implants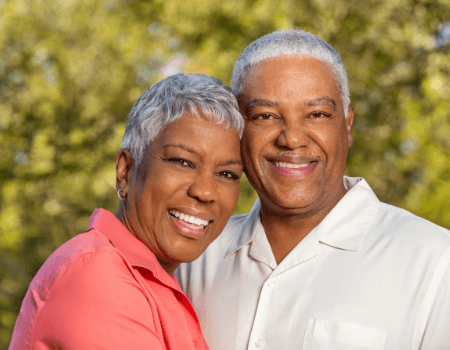 Because dental implants resemble natural tooth structure, they provide significant advantages over traditional tooth replacement options like dentures or bridges. These priceless benefits, which make dental implants a popular recommendation from patients and professionals alike, include: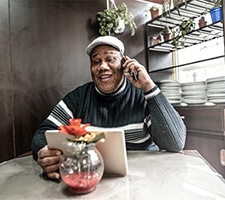 Prevent Jawbone Deterioration
An incredibly unique quality of dental implants is that they replace the entire structure of your missing teeth from the roots up. The natural roots of your teeth provide necessary blood flow and stimulation to the jawbone, which promote growth. However, when those go missing and the area is no longer being used as a foundation for your teeth, the jawbone begins to deteriorate. Because traditional dentures or bridges only replace the biting surface of your missing teeth, they don't prevent this from occurring.
Dental implants are surgically placed below the gum and into the jawbone. Through a remarkable process called osseointegration, your titanium implants will fuse with the bone, replacing the natural roots of your teeth and providing it with necessary stimulation.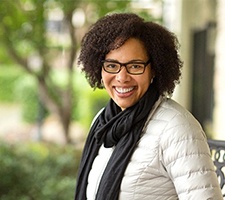 Stronger & Sturdier Replacement Teeth
Traditional dentures commonly cause patients stability issues because they rely on natural suction and denture adhesive to stay in place while you eat and speak. If you're not used to your dentures yet or you're still building your cheek muscles, they can slip or shift in your mouth, creating embarrassing moments where you accidentally slur your words or have to readjust them without anybody noticing.
Implant-retained replacement teeth are secured to a strong and stable foundation that's bonded with your jawbone. Because of this, you won't have to worry about having them shift out of place, making everyday tasks like speaking and eating easier and less anxiety-inducing.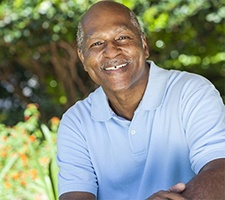 Replace One Tooth or Your Entire Smile
There's nothing more convenient than a versatile tooth replacement solution that can be used to either replace a single missing tooth or all of your teeth. There are several types of dental implants, including crowns, bridges, and dentures, that are able to completely restore your smile by filling in gaps and holes. Not to mention, unlike traditional tooth replacement treatments, you won't have to worry about altering your existing natural teeth in order to have them placed!
Don't Worry About Replacing Them Anytime Soon
Traditional dentures, bridges, and crowns typically last anywhere from five to 15 years with the proper treatment. That means that you would need to visit a dentist regularly to have them replaced, repaired, or adjusted.
Dental implants are made from titanium posts that are biocompatible. When they're placed, they form a thin oxide layer, which acts as a protective shield that prevents them from eroding or failing. Because of this, they're able to last for up to 35 years or more with regular maintenance. This feature of the procedure makes it incredibly cost-effective because it allows patients to visit their dentist for pricey replacements less often.
The 4 Step Dental Implant Process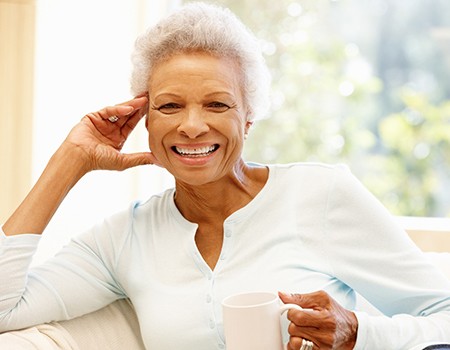 When choosing dental implants to replace your missing teeth, you must be ready to experience a multi-step process that requires much time and patience. Because the steps required can span over the course of several months, you may wonder if a more traditional solution is best (i.e., denture or a dental bridge). At Rubal Dentistry, we're pleased to place and restore dental implants in-house so that you have the convenience of staying in one location for the full duration of your treatment. Drs. Frank and Jodie Rubal have the experience and training to rebuild smiles using dental implants, giving you the chance to enjoy a better quality of life. While it is true that no two patient's dental implant journey is the same, there are four key steps everyone must take: initial consultation, dental implant surgery, osseointegration, and restoration placement.
Below you will find a more thorough explanation of how dental implants work in Azle. If you have any questions, please don't hesitate to contact our office.
Initial Dental Implant Consultation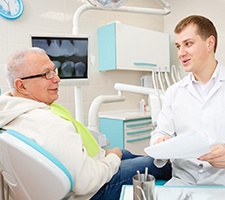 Your consultation will include a thorough examination by a member of our team. Not only will they use advanced dental technology to view your gums, teeth, jawbone, nerves, and other facial structures, but they'll determine if you need preliminary treatment before moving on to the next phase of dental implant treatment. Bone grafting, periodontal therapy, and even tooth extraction are normal procedures many patients must have to ensure a successful implant placement in the future.
Dental Implant Surgery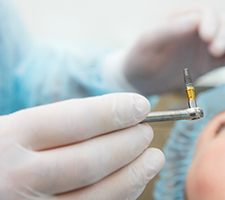 Because the dental implant surgery is completed in-house, you will not need to worry about seeing or paying for an outside specialist. Your implant dentist in Azle will administer local anesthesia to numb the areas around your tooth to ensure you feel no pain throughout the procedure. After making one or more incisions in your gums, the bone will be exposed, and the dental implant will be carefully placed in a way that promotes maximum support. Once finished, we will close the gum tissue and place a protective cap over the area before sending your home to begin the recovery process.
Dental Implant Osseointegration/Abutment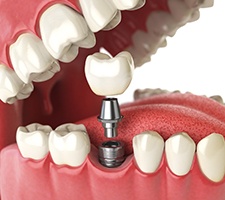 Once you are home, you will need to follow our guidelines for a swift and successful recovery. It is necessary that osseointegration take place, as your dental implants in Azle will need to fuse with the bone and surrounding tissues. This will create a solid and firm foundation for your customized restoration. After 3-6 months of healing, you will return to our dental office to have your metal abutment(s) put into place. These serve as small connector appliances that attach to the implant and restoration.
Delivery of Dental Implant Restorations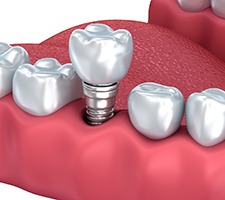 The final step in the dental implant process is to receive your finalized restoration. Dental implants are extremely versatile when it comes to treating tooth loss, so you can receive a single dental crown, an implant bridge, or a full implant denture depending on how many teeth you have missing. No matter the type of restoration you receive, you can trust that it will be made in a way that looks and feels completely natural when put into place. And because of the surgical placement of your dental implant, once the visible portion of your tooth is added, it will be virtually impossible for anyone to tell a difference between your real and artificial teeth.
Who Dental Implants Can Help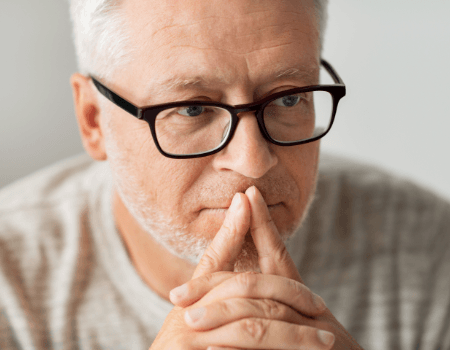 One of the most impressive features of dental implants is that they can be used in basically any tooth loss situation. Whether you're missing one tooth or an entire arch, treatment with dental implants can be adapted to meet your needs and restore your smile to its former glory. During your consultation at Rubal Dentistry, we'll evaluate your oral cavity to see if you qualify for this solution and create a personalized treatment plan just for you.
Missing One Tooth
Instead of using a traditional dental bridge, which involves reducing healthy teeth around the gap, one dental implant can be put into the socket without disturbing the remaining teeth. Then, we can place one dental crown to replicate a natural tooth from top to bottom.
Missing Multiple Teeth
Depending on the location and number of missing teeth, we can use dental implants to support either a bridge or partial denture. Rather than depending on nearby healthy teeth for support, these restorations attach to only a few implants, giving these replacements more security and longevity.
Missing All Teeth
Are you missing all of your teeth? With just four to six implants and a full denture, we can replace an entire arch of teeth. And what's more, because these artificial teeth will be fastened to dental implants, your dentures can last an entire lifetime with the proper care.
Learn More About Implant Dentures
Understanding the Cost of Dental Implants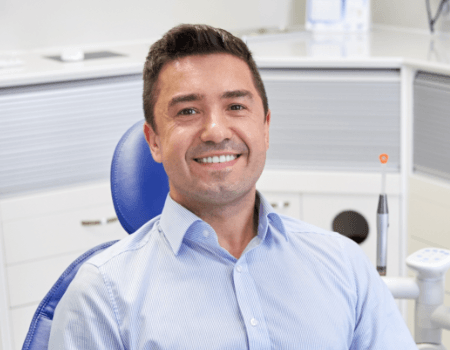 Your smile is unique and requires unique treatment. As a result, the cost of your treatment will largely vary depending on the number of implants you need, the type of restoration, and the location of the implants. We can discuss all these details at your consultation.
Although dental implants have a higher price tag than more traditional replacement options, they last significantly longer. When you add in the cost of replacing your denture or bridge, you will likely find that dental implants are the smarter financial investment.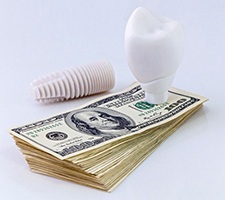 Types of Dental Implants
There isn't a pre-determined fee for dental implants because their cost is based on several factors, like the number of teeth you're replacing. You can expect to pay more if you're treating multiple teeth because you'll need more implant posts, abutments, and restorations. Your treatment will vary depending on the type of restoration you need, such as:
Single tooth implant
Implant-retained bridge
Implant-supported denture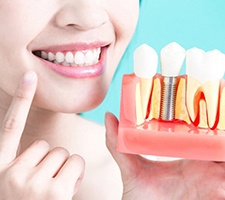 What Are the Stages of Dental Implant Treatment?
Dental implants recreate your tooth from the root up. As a result, it requires a multi-phased treatment process that will take several months to complete. This can make it easier to afford dental implants because you won't need to pay the entire amount upfront. Instead, each step in your treatment plan has a separate cost, including:
Initial Consultation: In addition to a visual examination, you'll also need a CT scan.
Additional Procedures: You might need tooth extractions, periodontal therapy, or bone grafting before your placement surgery.
Implant Placement: Sedation or anesthesia is used to promote your comfort as your implant posts are surgically placed into your jawbone.
Abutments: Each post needs an abutment to attach your restoration.
Restoration: Your restoration varies based on the number of teeth you're treating.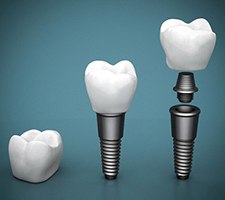 Are Dental Implants Worth the Investment?
Dental implants are more expensive upfront than traditional treatments, but they are more affordable long-term. They are the most reliable option to treat tooth loss with over a 95% success rate. In fact, they are proven to last for decades with the right aftercare, so you should never need to worry about paying to have them replaced.
You can also lower your overall oral health expenses by investing in dental implants. They are the only treatment to replicate the root to preserve your jawbone's density. This protects any remaining natural teeth from damage to prevent needing a costly treatment down the road.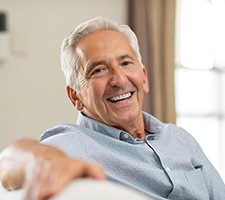 Does My Dental Insurance Cover Dental Implants?
Every insurance policy differs, but many plans offer some coverage for certain steps in your treatment after reaching your annual deductible. We will work on your behalf with your insurance carrier to maximize your yearly limits. A member of our team will file the necessary paperwork, so you have one less thing on your plate.
We offer several payment options to cover any remaining balance. We'll take the time to explain the costs associated with your treatment and help you find the solutions you need to replace your missing teeth without draining your wallet. Contact our office today to schedule your consultation.
Dental Implant Post-Op Instructions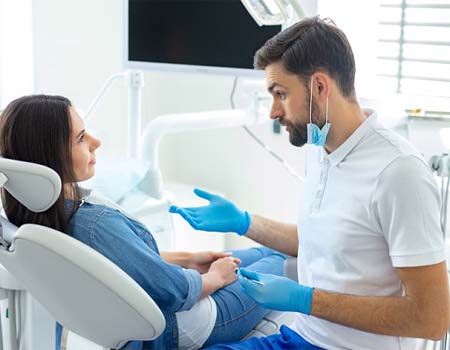 While dental implant surgery is not the most complex procedure in the world, you will still want to take the rest of the day off in terms of your recovery. This will work to prevent complications from developing as your mouth is still very sensitive after the implants are placed. Thankfully, your post-op instructions in Azle are relatively straightforward. You can learn more about these steps ahead of your next appointment below if you'd like, or give us a call if you have any questions or concerns since receiving your implants.
What to Do Directly After Dental Implant Surgery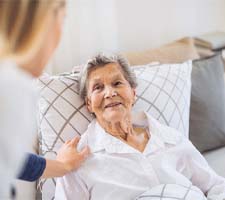 With the dental implant surgery out of the way, you're already through the most difficult part of the tooth replacement process. Now, all you need to focus on is resting and giving your mouth the care and attention it needs to heal properly.
Immediately after you finish surgery, you'll want to take the following steps to protect the blood clot and prevent it from becoming loose. For example:
Never touch the implant site with your fingers directly.
Avoid spitting, especially with force. Use tissue instead or simply swallow your saliva.
Do not smoke or use tobacco of any kind.
Do not drink from straws for at least 24 to 72 hours after your surgery.
Common Side Effects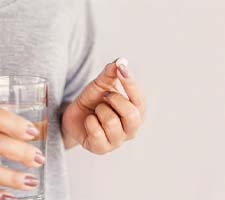 The side effects that come with oral surgery are not obvious to everyone, especially those who have never had oral surgery in the past. Over time, any discomfort you're experiencing will begin to naturally disappear. If it does not appear to be getting better, call us right away. Other common side effects that go away with time include:
Intermittent bleeding. This can be handled by applying light pressure onto the surgical site using a gauze pad.
This can occur over the next few days and can be addressed by placing a cold compress on your face for 10 minutes at a time. Remove and reapply the compress every 10 minutes for up to one hour.
General discomfort. Take prescribed painkillers as well as over-the-counter options like ibuprofen as needed.
Diet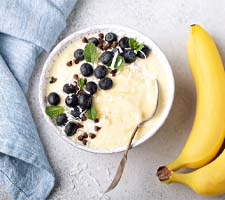 Sticking to a soft diet is very important after oral surgery as it helps prevent any stitches from coming out of your treatment site. Good foods to purchase ahead of your surgery include:
Ice cream
Smoothies
Yogurt
Mashed potatoes
Applesauce
Cold soup
Scrambled eggs
Soft-cooked pasta
Pudding
Health & Oral Hygiene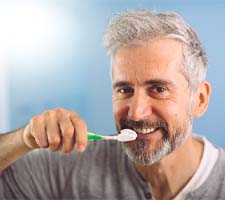 You'll still need to keep your mouth as clean as possible following oral surgery. We recommend the following:
Brushing your teeth gently and using caution when brushing near the treatment site. Avoid touching it until it has had a chance to heal over the next few days.
Floss as normal while avoiding the treatment site.
Rinse your mouth with saltwater two to three times a day or use a prescription mouth rinse if recommended.
Do not use mouthwash that contains alcohol.
What to Do After Your New Teeth Are Attached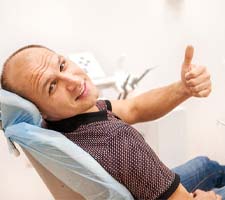 Once the implants have fully fused with your jawbone and the abutment has been attached, you'll be asked to come back to our office to have the permanent restoration placed as well. In some cases, you may notice some minor sensitivity after the crown, bridge, or denture is attached. This is normal and can be managed at home with medication. If you start to notice any swelling, bleeding, or other side effects that don't seem right, give us a call!
Dental Implant FAQs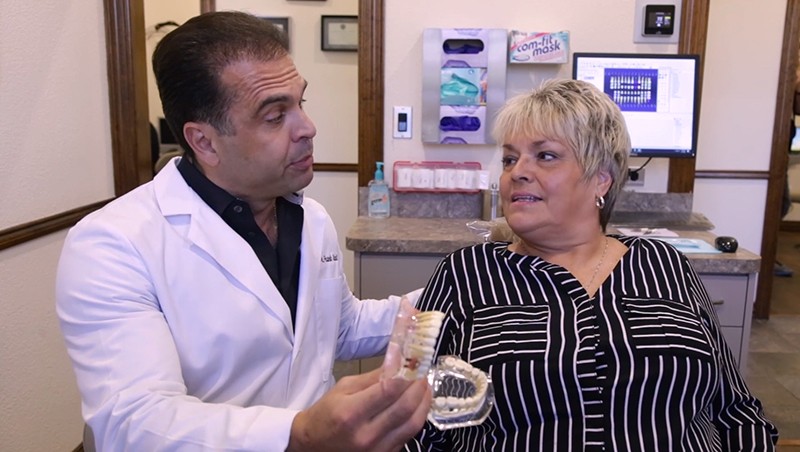 At Rubal Dentistry, we know that having dental implants placed is a big step in your life. Thus, we're eager to provide more information so you can feel comfortable with every aspect of the care you receive. Along those lines, we've noted the most common questions that we're asked about the dental implant procedure. We've compiled them into a list and provided the answers. To get more details, feel free to contact us to request an initial visit with one of our skilled dentists.
Am I Too Old for Dental Implants?
The only age barriers associated with receiving dental implants is that you must have all of your adult teeth and your jaw must be finished developing. Other than that, age isn't a determining factor in your eligibility for dental implants. Instead, your dentist in Azle will consider things like the condition of your oral and general health as well as any lifestyle habits that may be detrimental to your dental implants, like smoking or excessive alcohol consumption.
Can I Get Dental Implants If I Have Gum Disease?
If you have gum disease, you're not alone, as over 50% of the adult population in America have some form of the condition. In fact, it's a leading cause of tooth loss. Left untreated, the infection could eventually compromise a dental implant in the future, so you'll need to have the issue resolved before undergoing the dental implant procedure.
If I've Had Jawbone Loss, Can I Still Get Dental Implants?
For a dental implant to seat properly, there must be adequate jawbone density. Otherwise, you won't be able to experience the longevity that the procedure is known for providing. By undergoing bone grafting surgery that fortifies the jaw, you can then be eligible for dental implant insertion. While it extends the overall completion time, you'll be able to enjoy your newly restored smile for decades.
How Long Do Dental Implants Last?
There are several perks to receiving dental implants. For starters, the procedure has a 95% success rate. With the right care, your new smile can last 30 years or more. Here are some best practices to keep in mind:
Only use your teeth for chewing food and not as tools.
If you have a habit of grinding your teeth, seek treatment.
Wear a protective mouthguard if you're involved in any types of sports.
Brush and floss your teeth at least two times a day using products that are specially designed for dental implants.
Visit your "dentist near me" every six months for checkups and cleanings.