Meet The Dental Team – Azle, TX
We Are Here to Help You
Do you have an insurance question? Do you need help scheduling your next dental visit? You need to talk to our team! Whether you're getting your teeth X-rayed or receiving a warm welcome from our front desk, our team members are glad to make your dental experience a positive, pleasant one in whatever way we can. We look forward to getting to know you in person, and you can get to know us by reading the information below.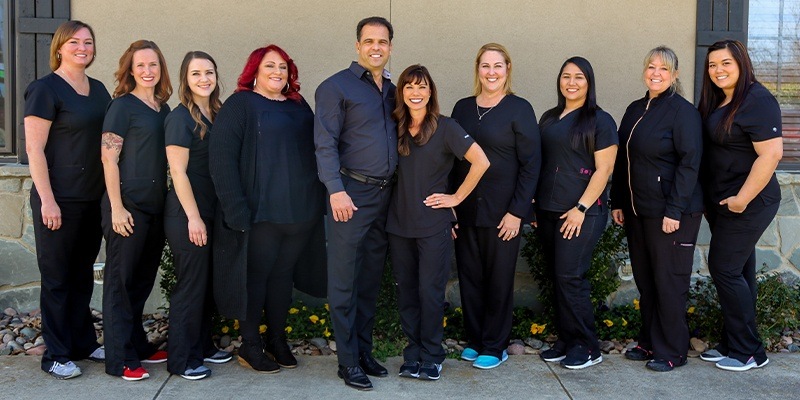 Jennifer V., Front Desk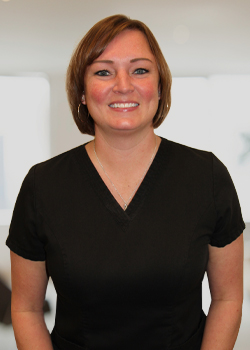 Jennifer's career in the dental field spans nearly 15 years, with most of that time spent right here in our dental office. She loves working with such wonderful people day in and day out! Originally from Midland, she has a loving husband and pets at home. When she isn't busy at work, her favorite hobby is adventuring out on camping trips.
Vallerea, Front Office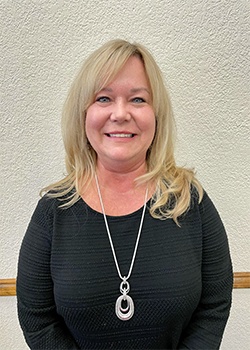 Vallerea is a Texas native! Her love for helping people led her to attend ATI Dental Assisting School. Now, she uses that passion to ensure our patients have a phenomenal experience at our practice. When she isn't with our team, you can find her spending time with her spouse, three sons, and two fur babies. She also enjoys hanging out with friends.
Here's an interesting fact about Vallerea: she has over 25 years of experience in the dental field!
Jade, Dental Assistant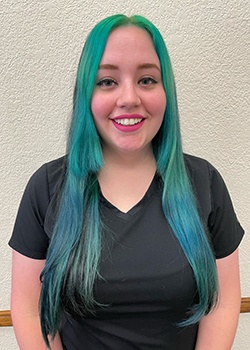 A Texas native, Jade completed her studies at South Texas Vocational Technical Institute in Corpus Christi. Since then, she has earned her certification in both nitrous oxide and CPR. After over five years in the field of dentistry, her favorite part of her job continues to be seeing the smile on each patient's face after finishing their treatment. She and her husband recently bought their first home and welcomed their son, Bruce, in June of 2020. As a family, they love going to parks and watching all the DC and Marvel movies!
Here's an interesting fact about Jade: she dyes her hair to match her scrubs!
Beth, Dental Assistant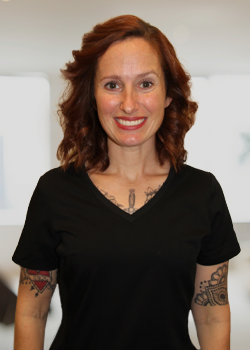 Beth hails from Granbury originally and has been working in oral healthcare for well over a decade now. She studied at the Fort Worth Dental Assistant School. Today, she really enjoys being able to make a positive difference in people's lives and seeing the happiness on their faces after treatment. At home, she and her husband have five kids between them, all of whom are involved in sports. When she has free time, her favorite hobbies include being outdoors and watching dad and the boys ride dirt bikes.
Here's an interesting fact about Beth: she loves tattoos and has lots of them! In fact, she even did one of them herself.
Alicia, Dental Assistant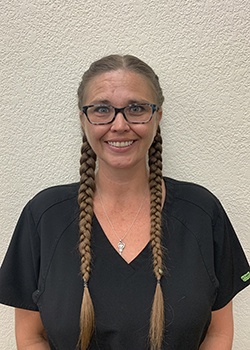 Alicia is originally from Pleasanton, Kansas! In addition to attending a trade school for dental assisting, she studied radiology, infection control, and dental assisting at the Baylor College of Dentistry. With nearly 20 years of experience in the world of dentistry, she joined our team in 2021. So far, her favorite parts of her job are connecting with patients, building trust with them, and seeing them leave with a smile. With her soon-to-be-husband, Mark, she has four amazing children who always manage to keep her on her toes. From camping to going to the beach, her favorite thing to do outside the office is taking trips with the kids.
Here's an interesting fact about Alicia: Mark gave her a Harley for Christmas! She recently earned her motorcycle license and has been riding it every chance she gets.
Sierra, Dental Assistant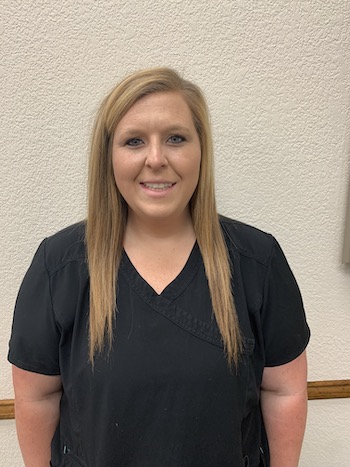 Sierra was born and raised right here in Azle – she even graduated from Azle High School! Afterward, she pursued her studies at Weatherford College and earned her certifications in CPR and nitrous oxide monitoring. Over the last 4+ years, one of her favorite parts of her job has been getting to help people each and every day. In her free time, she loves spending time with her three boys, having game nights, and riding horses.
Here's an interesting fact about Sierra: she's probably the pickiest eater you will ever meet.
Danna, Dental Assistant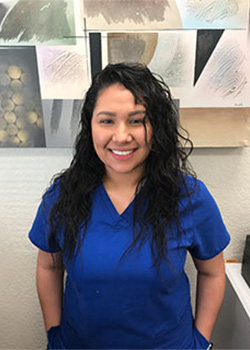 A Fort Worth native, Danna studied at Everest College and has been working in the dental field for over five years now. She loves being able to help each patient achieve their desired smile! Outside of work, she and her husband Adam have two sons named Nathan and Andrew, a daughter named Jalissa, and a dog named Mia. Her favorite interests include Friday Night Lights, listening to her oldest son Nathan play tenor saxophone for the Boswell Band of Gold, and baseball – lots and lots of baseball. In fact, both her son Andrew and her daughter play.
Here's an interesting fact about Danna: with the amount of lipstick she owns, she could wear a different shade every single day for a year!
Cara, Dental Hygienist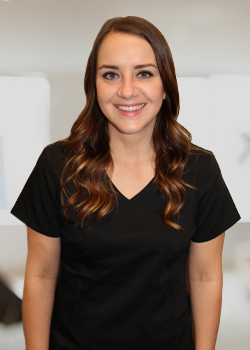 Cara studied dental hygiene at Tarrant County College and has been working in dentistry for over a decade now. She is also certified in laser dentistry. Her favorite part of this job is an easy answer – the patients! She loves cleaning teeth and educating others about the value of oral health, and building such good relationships over time makes the role very rewarding. Originally from Justin, she and her husband currently live in Weatherford. In her spare time, she enjoys traveling, hanging out with loved ones, hiking, camping, and relaxing outdoors.
Here's an interesting fact about Cara: she has a tooth collection, which includes whale teeth, kangaroo teeth, dinosaur teeth, shark teeth, and more!
Jane, Dental Hygienist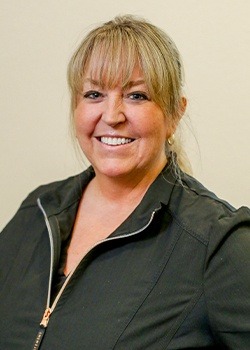 Jane's career in the dental field impressively spans over 25 years so far. She attended Indiana University for her education and has her Bachelor of Science in Dental Public Health. She loves being able to take such good care of patients every day! Originally from Fort Wayne, IN, she has two children at home. In her spare time, you can usually find her lounging at the beach, adventuring outdoors, or drinking red wine.
Here's an interesting fact about Jane: her daughter is physically disabled, which has made her much more sensitive to the needs of patients with similar circumstances.
Christy, Dental Hygienist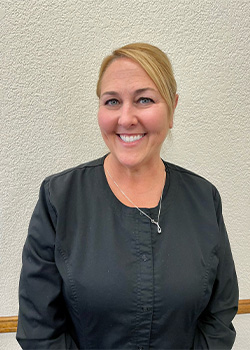 Originally from Waxahachie, Christy attended the University of Texas at Arlington for her education and then studied dental hygiene at Collin College in McKinney. Today, her career in dentistry amazingly covers over 25 years! She loves getting to know each unique patient, putting them at ease, and helping them achieve a healthier mouth. Outside of work, she loves spending time with her spouse, her two grown sons, her two wonderful daughters-in-law, her amazing granddaughter, and her two dogs.