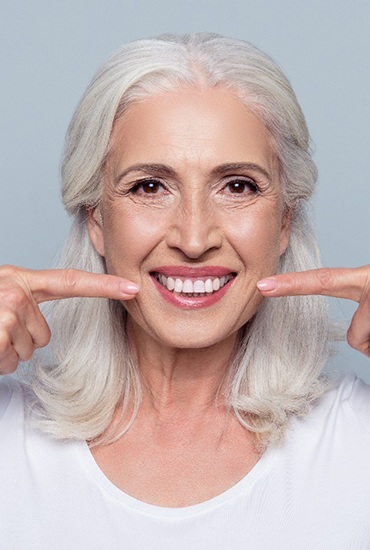 Missing All Teeth – Azle, TX
Secure Your Denture with Dental Implants
You probably never expected to lose all your natural teeth in one or both arches, but it's now your reality. If you're like many people, you have likely tried a traditional denture. Although they are an effective and convenient solution, they will never feel natural. If you're tired of slipping and irritation, it's time to discover the stability of dental implants. You can enjoy a close replica of your natural smile using implant-retained dentures.
How Do Implant-Retained Dentures Work?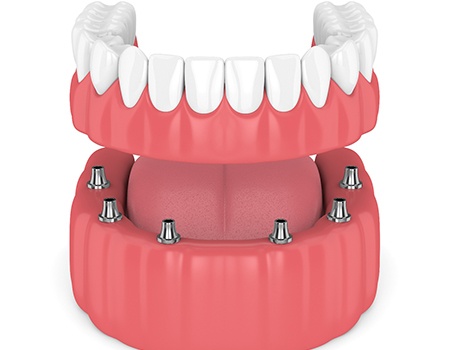 A conventional denture is held to your gum tissue using suction or an adhesive. This allows you to chew a variety of foods, speak clearly, and smile confidently, but they will always have their limitations. Implant-retained dentures resolve the common complaints of a traditional denture.
Instead of relying on an adhesive or suction, 4 to 10 dental implants are used to support the denture. They will serve as new tooth roots, allowing you to enjoy several advantages that aren't possible using a traditional denture.
Am I a Candidate for Implant-Retained Dentures?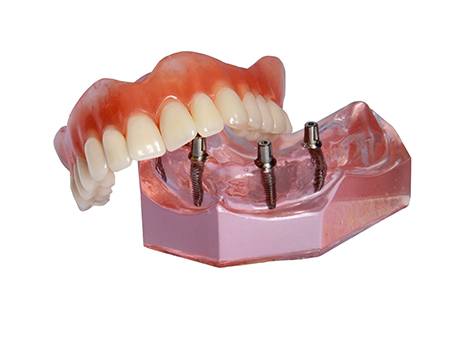 If you've experienced significant tooth loss and a traditional denture didn't give you the results you had wanted, you might be a candidate for an implant-retained prosthetic. In most cases, if you have good oral and general health, you can benefit from dental implants. You'll need a thorough consultation with your dentist to ensure they are the right choice for you. Depending on the results of your examination, you might need additional treatments before your placement surgery, like periodontal therapy or bone grafting.
The Implant-Retained Dentures Procedure
Unlike conventional dentures, the process of rebuilding your smile will take several months, but it's time well spent. After you've healed from any previous treatments, you're scheduled for your implant placement procedure. Sedation or anesthesia is used to surgically place dental implants into your jawbone.
They act as new tooth roots, stimulating your jaw to encourage new bone growth. Through a process called osseointegration, your bone will fuse to the posts, allowing them to remain in place forever with the right aftercare, like maintaining your oral hygiene and routine dental appointments.
After your jawbone has healed, you'll be fitted for your permanent denture. It's carefully crafted to look natural to create the confident smile you deserve. It's made of durable material to feel natural, so you can enjoy your favorite foods again.
Benefits of Implant-Supported Dentures
With the support of dental implants, you will enjoy exceptional benefits that aren't possible using traditional treatments, including:
Over a 95% success rate to last for several decades.
Looks natural to smile confidently.
Regain as much as 70% of your biting force.
Preserves your jawbone to improve your oral health.
Supports your facial tissues for a youthful appearance.
Easy maintenance and care.
Eliminates slipping and irritation.
Long-term, cost-effective solution.
Rebuild Your Smile Today
If you're ready to say good-bye to slipping and irritation, you can gain a close replica of your real teeth using dental implants. Contact our office today to see if you're a candidate for implant-retained dentures.