September 15, 2021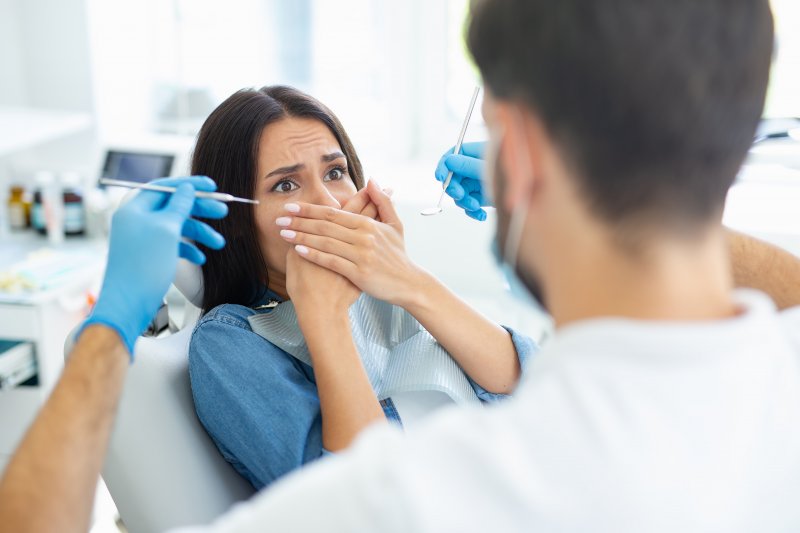 According to DentaVox, over 60% of people worldwide suffer from dental fear. This has kept as much as 22% of people from attending checkups and cleanings and is a common reason why many people don't get the care they need. Whether you had a bad experience in the past or are anxious at the prospect of having your teeth worked on, the dentist's office is one place you don't need to be afraid of this Halloween. Here are some reasons why the dentist isn't so scary after all.
5 Common Causes of Dental Anxiety
Dental anxiety is more than simply being nervous about your upcoming dental appointment. In fact, the stress associated with these visits is so severe in some cases that patients avoid their dentist's office entirely. Usually, it's a result of one of the following:
Anxiety surrounding being judged
An unpleasant experience with the dentist in the past
Stress over the cost of treatment
Fear of needles or the unfamiliar noises and tools the dentist uses
Embarrassment revolving around one's oral health
Why You Need Regular Dental Checkups
Even if you had a bad experience with the dentist in the past, it's crucial to go on a regular basis to keep your mouth healthy so you can have a fun, stress-free Halloween season. Some of the issues the dentist can help you with include:
Cavities – Even with regular brushing and flossing, there are parts of the mouth that are difficult to reach. With your dentist's help, those areas can be thoroughly cleaned so you can avoid tooth decay.
Oral Cancer and Gum Disease Detection – The dentist will do a thorough oral exam and can identify early signs of gum disease or oral cancer to start treatment immediately.
Head, Neck, and Lymph Nodes – Along with checking everything in your mouth, the dentist will also check your head, neck, and lymph nodes for any lumps, swelling, or other abnormalities.
Problems Beneath the Surface – X-rays will allow the dentist to see issues under the surface so they can diagnose and begin to treat them.
Reasons Why You Shouldn't Fear the Dentist
Visiting the dentist can be a bit nerve-wracking at times, but regular checkups are essential to maintaining good oral health and a beautiful smile. Some reasons why you don't need to be afraid of the dentist include:
They're here to help and will do everything they can to make your appointments more comfortable for you.
They know what they're doing. It's their job to make sure your teeth and gums are healthy.
If you're scared of pain or discomfort, there are several ways to get around that.
The sooner you seek help, the more treatable oral health problems will be.
With the right dentist, there won't be any repeats of unpleasant past experiences.
By keeping up with your oral health and making regular appointments to see the dentist, you'll be able to keep your teeth and gums strong and healthy. Keep the above in mind to help you work towards overcoming your fear of the dentist this Halloween!
About the Practice
Are you an Azle resident suffering from dental fear or anxiety? Dr. Frank Rubal, Dr. Jodie Rubal, and the Rubal Dentistry team can help. Whether you're a new patient or an existing one, we are dedicated to fostering a positive, comfortable environment where patients of all ages can receive top-quality oral care. We have been transforming smiles and changing lives for more than two decades, and we look forward to helping you, too. Visit Rubal Dentistry's website or call (817) 444-2585 to learn more about how they can help you overcome your dental fear and receive the treatment you need.
Comments Off

on Why You Shouldn't Fear the Dentist This Halloween
No Comments
No comments yet.
RSS feed for comments on this post.
Sorry, the comment form is closed at this time.