July 15, 2021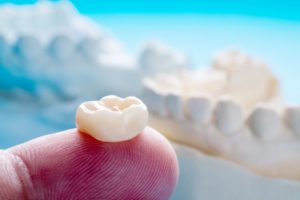 Most of the time, you can expect a dental crown to last for 10-15 years with very little maintenance. After all, today's dental crowns are more durable than ever before. Sometimes, though, a crown can loosen or even fall off long before that point. If your crown has come off, you might not know exactly what to do. Keep reading below for some tips on how to handle a lost dental crown until you can see your dentist!
Don't Panic
First things first, do your best to stay calm. Losing a dental crown is not as urgent of an emergency as a knocked-out tooth or an oral infection. However, you should still seek treatment as soon as you can. A good rule of thumb is that a lost dental crown should be treated within a week.
Examine the Crown and Underlying Tooth
After taking some deep breaths, use a mirror or the help of a friend to inspect the crown and the tooth it used to be covering. That way, you can gather information to give your dentist over the phone. The more details you can provide, the better.
Call Your Dentist
Tell your dentist's team as much as you can about the situation – what you were doing when the crown fell off, how your tooth feels, whether the crown is still in one piece, etc. They'll let you know whether you need to come in right away or if your appointment can wait a couple of days. If you can't locate the crown and the tooth has sharp edges, they may suggest covering the area with sugarless chewing gum to protect the soft tissues in your mouth until your visit. If you still have the crown, they might recommend temporarily reattaching it with denture adhesive, petroleum jelly, or toothpaste.
Keep Your Mouth Clean
Oral hygiene is particularly important when a vulnerable tooth is more exposed. Brush and floss every day, but be careful around the tooth in question to prevent irritation.
Avoid Chewing with the Tooth
Without the crown to protect it, the tooth might be more sensitive to foods or drinks that are particularly hot, cold, sugary, or acidic. Try not to consume any of these items, and avoid chewing with that tooth at all if you can.
As durable as dental crowns are, they're not meant to last forever. When in doubt, the best thing to do if you lose your dental crown is to call your dentist. They can help you get your smile back on track!
About the Authors
Dr. Frank Rubal and Dr. Jodie Rubal are a husband-and-wife team of dentists who both have more than 20 years of experience in the field of dentistry. With their convenient office hours and same-day appointments for patients with dental emergencies, their practice is the perfect place to call if you're dealing with a lost dental crown. To get the prompt care your smile needs, contact Rubal Dentistry at 817-444-2585.
Comments Off

on What to Do If Your Dental Crown Falls Out
No Comments
No comments yet.
RSS feed for comments on this post.
Sorry, the comment form is closed at this time.